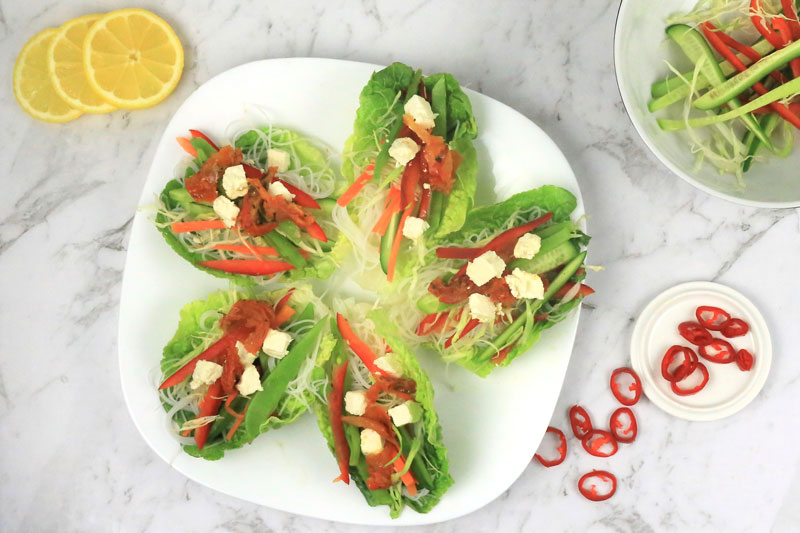 Lettuce cups look great on a platter and are an easily prepared food to share with guests for festive occasions. The best lettuces to use are the crisp ones that form into nice cups to hold the fillings such as cos, iceberg or baby gem.
For this recipe we used: Vermicelli rice noodles, feta cheese diced, sun dried tomato diced, julienned or thinly sliced vegetables: mini cucumbers, cabbage, red capsicum, snow peas and some thin slices of red chilli if you like it hot.
Soak the noodles in hot water for a few minutes as per directions on the pack, then drain in a colander and cool prior to using. Other ingredient amounts depend on how many people you are feeding.
Easy Grainfields dressing to drizzle on top – 2 tblsp olive oil, 2 roasted garlic cloves, 4 tblsp lemon juice, 2 tsp honey, 2 tsp of your favourite Grainfields liquid.
Wash and drain the lettuce leaves and arrange on your serving platter. Wash and slice vegetables, dice the feta cheese and tomatoes and set aside.
Simply place the noodles on the lettuce leaf bases then layer the vegetables, feta cheese and sundried tomatoes over the top. Just before serving, drizzle over the dressing and garnish with a sprinkle of Organic Hemp Seed Sprinkle
Using sliced vegetables and/ or noodles as a base, some ideas for extra fillings include
Cooked turkey or chicken breast with cranberries or cranberry sauce
Ham and dijon mustard
Tuna, avocado and mayonnaise
Curried egg