Ingredients:
500g (2 x 250g packs) cream cheese
2 cups shredded Cheddar or Colby Cheese
1 tablespoon  Worcestershire sauce
1 tablespoon Tomato sauce or paste
1 tablespoon your fave probiotic drink
2 tablespoons Grainfields Hemp Seed Sprinkle
1 teaspoon Grainfields Artamix Powder
1/2 cup finely chopped red capsicums, 1/2 cup finely chopped shallots or spring onions.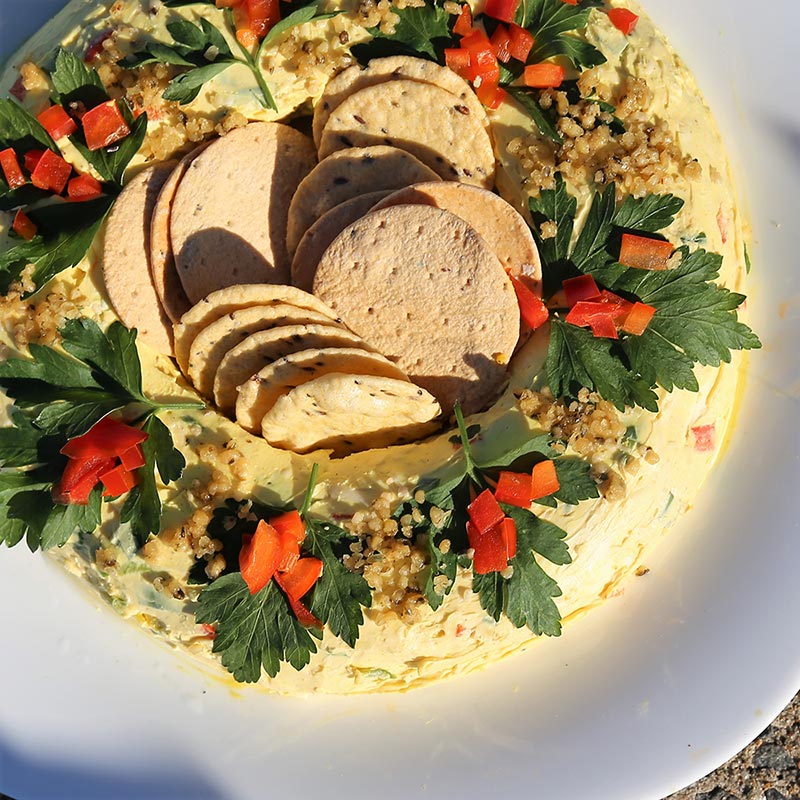 Salt and pepper to taste
Flat Italian parsley leaves, extra chopped red capsicum and Hemp Seed Sprinkle for garnishing. Plus crackers or crudites for serving.
There are many variations you could try for this recipe such as dried fruits, different Grainfields powders and different herbs and spices.
To get the Christmas wreath shape you can use a Bundt cake pan as a mold. We improvised our mold by using round glass pyrex dish with a plastic cup in the middle to make the hole.  Alternatively, you can just roll the mixture into a traditional round cheese ball. Another great serving idea is to shape it into a conical Christmas tree and cover with finely chopped parsley or chives.
If using the bundt cake pan or round bowl and plastic cup idea, line the inside of your mold with plastic wrap.
Mix all ingredients plus salt and few grinds of pepper to taste by hand in a bowl until smooth. Spoon the mixture into the prepared mold; pack it in, spread into an even layer and cover with more plastic wrap (or form the cheese mixture into a ball and wrap tightly with plastic wrap). Refrigerate until chilled, at least 1 hour up to 2 days.
Uncover and invert the cheese mold onto a serving platter and remove the plastic wrap. Smooth and shape further with a flat butter knife or spatula.
Lastly garnish your creation with flat parley leaves, Grainfields Hemp Seed Sprinkle and chopped red capsicum. Serve with crackers or crudites in the middle of your Grainfields Cheesy Christmas Wreath.