Ingredients
1 cup organic quick oats
1/3 cup cashew nut butter
1/2 cup melted organic dark chocolate
2 tablespoons Grainfields Protein Powder (or substitute other Grainfields powder)
2 tablespo ons raw organic honey
2 tablespoons melted organic cold pressed coconut oil (add more coconut oil if you find the mix is too dry)
1 tablespoon dessicated coconut
1/3 cup or more Grainfields Organic Hemp Seed Sprinkle for rolling.
You can try variations such substituting macadamia oil or other nut butters, or adding dried berries etc.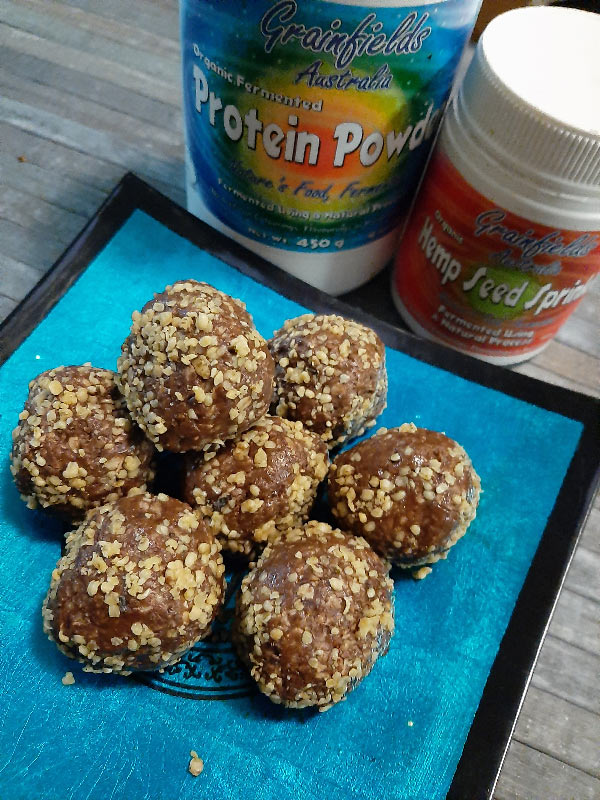 Directions
Stir all ingredients other than Hemp Seed Sprinkle together in a bowl until mixed.
I used latex gloves as the mixture can be a little dry and it needs to be mixed well and squished together. Form mixture into bite sized shapes and roll with your palms into balls. Next roll the balls to coat them in the Hemp Seed Sprinkle and press in well. Store in refrigerator but leave out at room temperature for a while before eating as they tend to be quite firm.  A filling satisfying snack that will ward off hunger pains for a long time!
Our Grainfields Superfood Powders provide a dense source of nutrition combined with beneficial food based Lactobacillus bacteria which helps make the nutrients more easily absorbed.