With many of us self- isolated and in lockdown due to coronavirus and Covid 19 we have more time to ourselves than ever before.
So here is something to do that does take time- making sourdough.  Just making the starter culture can usually take 5 to 7 days……sometimes even weeks! Wow!
The founder of AGM Foods is a fourth generation baker. This is the trade where he learned about the important role that bacteria play in the production of real fermented bread. This knowledge led him to create fermented liquids and powders and create AGM Foods and the Grainfields Australia range. So, I spoke to him about making sourdough and he told me some great stories including one about a 600 year old bread culture he saw during his travels in Europe. Yes, apparently this is a thing- handing down culture to make bread through many generations. Not all of us are so lucky to have a sourdough starter passed down to us from our ancestors. But fortunately, all that you really need is flour, water and a special secret ingredient to make a fresh batch of starter culture. Read on!
As I mentioned earlier making the starter culture can take many days, but our fermentation expert let me in on a little secret. The Grainfields BE Liquid can cut the time down considerably as you don't have to wait for wild yeasts to activate the starter. The Grainfields also ensures you only get good yeasts and bacteria occurring.
The Clever Carrot website has great easy to follow Sourdough recipes. I used the beginner Sourdough Starter Culture recipe and the Artisan Sourdough Bread recipe which I have adapted below
Sourdough Starter Culture
Day 1. Combine 1⁄2 cup of all – purpose flour and 1⁄3 cup of Grainfields BE Liquid in a large jar or bowl.  I used a pyrex bowl which has a plastic lid.
Mix with a fork until smooth; the consistency will be thick and pasty then add some water to thin out the texture.
Cover loosely with plastic wrap, a small cloth, or the lid of the jar and let it rest in a warm spot, about 24 to 26 degrees C for 24 hours. (I did not seal the lid, just sat the lid loosely on top covering the bowl.)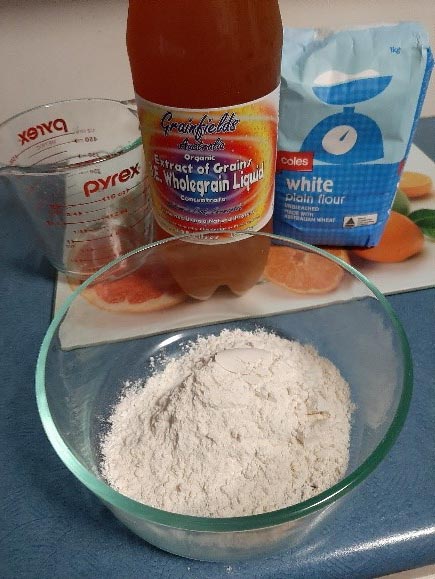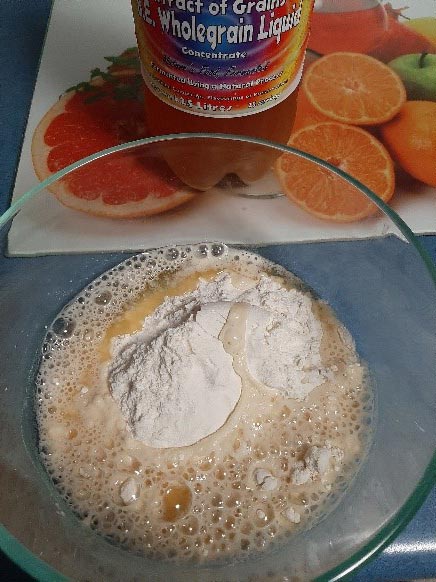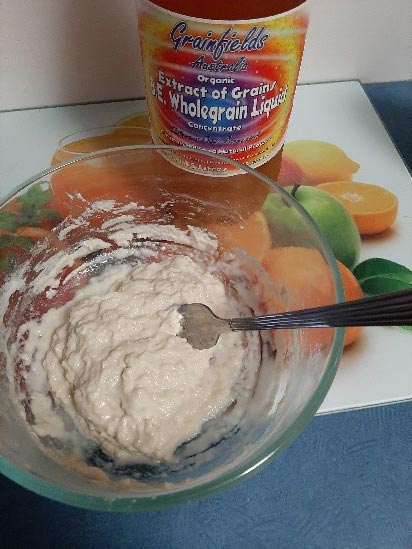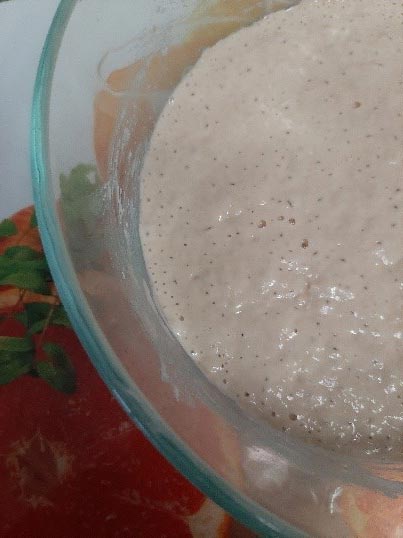 Day 2. Check for bubbles which indicate fermentation. Sometimes when making the starter a dark liquid might appear on the starter. This liquid is called "hooch" and is an indication that your starter needs to be fed. It also has a very stinky smell. Any time you see this liquid, it's best to remove by pouring if off, along with any discolored starter present.
When I made mine, I did not have any hooch occur at all.
Day 3. Feeding the sourdough starter culture. Remove half of the starter. This can be discarded or used in other baking – I added mine to pancake batter! Yum! Next add half a cup of all- purpose flour and 1/3 cup of Grainfields BE Wholegrain Liquid,  mix until smooth. Texture should be like thick pancake batter,  add a little water to thin if needed. Cover loosely with a cloth or unsealed lid and leave in a warm spot for another 24 hours. This should be all the feeding that is needed as using the Grainfields BE Wholegrain Liquid cuts the usual starter culture making process down to half.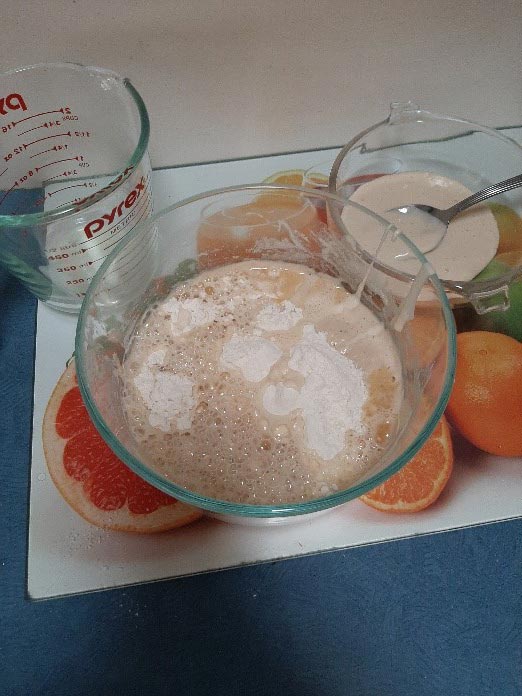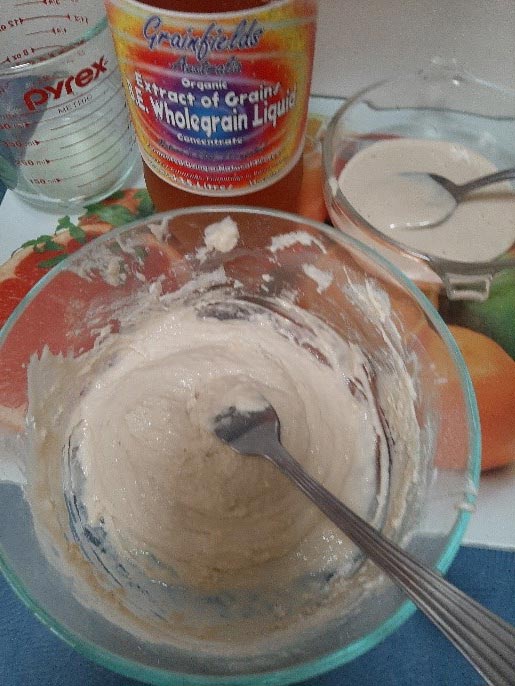 Your starter is ready when it shows all of the following signs:  growth to about double in size, small and large bubbles on the surface and throughout the culture, spongy or fluffy texture.
Float Test: If you're still unsure whether your starter is ready, drop a small amount (about 1 tsp) into a glass of water; if it floats to the top it can be used. If it sinks, your starter should be fed again. Just repeat the day 3 process of feeding the culture again until it is ready.
How to store your starter culture:
At Room Temperature: If you bake often. Room temperature starters should be fed one to two times a day, depending on how quickly they rise and fall.
In the Fridge: If you don't bake that often, store your starter in the fridge, loosely covered or with a lid. You'll only need to feed it about once a week or so, to maintain its strength when not in use. When you are ready to make dough, feed your starter at room temperature as needed, to wake it back up.
Making The Sourdough
Day 4.   Use 1/4 cup active culture starter, 1/2 cup flour, 1/4 cup Grainfields BE Wholegrain liquid, 1/4 cup water. Mix with a fork then hands.
Cover with cling wrap or a damp cloth. Leave to rise for half an hour up to 4 hours then fold and work to form a ball. Cover and leave overnight. The dough should double in size.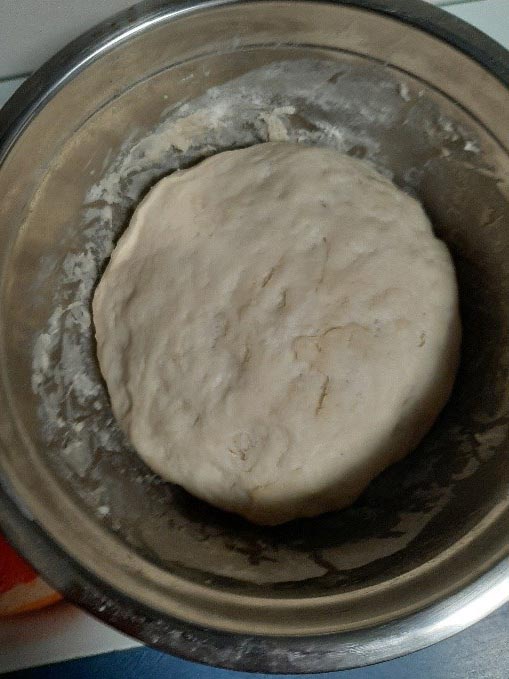 Day 5.  Bread baking day! Shape the dough by gently folding on a floured surface and shape into a round shape. Place in a bowl lined with a cotton or linen cloth. Cover with the ends of the cloth and let rest for 1/2 to 1 hour.
Gently fold and shape into a round shape again. Rest for another 1/2 to 1 hour. Preheat oven to 218 or 200 C if its a fan oven. Score the dough with a butter knife.
Place into baking pot lined with paper. For a baking pot you can use a dutch oven, I used a pyrex casserole dish with a lid for mine. Bake for 20mins with lid on. Bake for a further 30 to 35mins with lid off until golden brown.  Lift out with the paper and let it cool on a rack for an hour for the best flavour before eating.